China's New Energy Vehicle Demand
| By Siyuan Gu |
Introduction
In recent years, the demand for new energy and zero-emission vehicles has surpassed expectations. The market will develop rapidly in the next three years, passing the inflection point and rapidly increasing the penetration rate. New energy vehicles have the advantages of ultra-high-cost performance, high-speed operation, intelligence, and low cost so new energy vehicles in China's market are in full swing. By November 2021, the sales of new energy vehicles in the industry will be about 3.02 million or 2.99 million units, a significant increase of about 1.7 times over the average increase in the previous year, and the market penetration rate has reached 12.8%. 
2020 Brings Surge in Market Demand and Growth
China's new energy vehicle industry has been developing rapidly in recent years and has moved from the initial start-up stage to a mature location, with the number of new energy vehicles owned having more than doubled in five years. As China adheres to the development direction of pure electric vehicles, pure electric cars take up a large proportion. By 2020, the number of pure electric vehicles will reach 4 million, accounting for more than 80% of the total cars. At present, with the continuous changes in technology and industry, new energy vehicles have become an essential pillar of China's automobile industry.
In 2020, new energy vehicles will account for 40.70% of the market share, only 3.1 percentage points lower than in Europe. China's BYD sold 179,200 new energy vehicles, ranking third in the world, and in 2014 new energy vehicles entered the era of personal purchase. 2020, global sales of new energy vehicles are the best in the world, and in 2021, China's production of new energy vehicles will reach 3,545,000 units, a year-on-year increase of 159.5 percent. China's new energy vehicle production will reach 3.545 million in 2021, a 159.5 percent year-on-year increase. The cost advantages of new energy vehicles are becoming increasingly prominent, and China's new energy vehicle development is gaining momentum. It is predicted that by 2025, the market share of new energy vehicles will reach 6 million units, with a penetration rate of 18%. By 2030, global auto sales will continue to rise to 9.8 million units, with a penetration rate of 29%; by 2040, China's auto sales will reach 15 million units, with a penetration rate of 38%.
Regarding new energy vehicle sales, there are currently two major categories of new energy vehicles, namely pure electric vehicles and plug-in hybrid vehicles. Under China's carbon-neutral environment, the penetration rate of new energy vehicles has exceeded 10%, which means that the use of electric cars has already reached more than 10% among new energy vehicles. Compared to previous years, sales of pure EVs have grown significantly in 2021, becoming a trend among China's new energy vehicles. In 2022-2025, China's new energy vehicle market is expected to see a large number of new models and the rise of new brands of new energy vehicles in a carbon-neutral environment.
Challenges and Opportunities
The new energy vehicle industry is poised for a tremendous growth opportunity, and whether it can receive adequate financial support is crucial in determining the development of the new energy vehicle industry. The financial sector should seize the opportunity for the green transformation of this industry and accelerate the growth of green industrial layouts. At present, China's green economic development is still facing a shortage of financing, and the development of the new energy automobile industry needs green financial support in all aspects. At present, China's new energy vehicle brands can be roughly divided into three types: domestic brands, new forces based on Internet thinking, and foreign brands and foreign-funded enterprises.
China has the fastest development of new energy vehicles; for example, China has been the world leader in new energy vehicles for four consecutive years. According to EVSales, in 2018, the worldwide sales of new energy vehicles exceeded 2 million units, and China's sales reached 1,053,000 units, much higher than all other countries. China's new energy vehicles are entering a mature stage from an introductory phase, with ample market space. Starting from the national critical new energy vehicle specialization in 2001, the whole industry has undergone three development periods: 2001-2008, 2009-2015, and 2016-present. According to the development plan for new energy vehicles, by 2025, the market penetration rate will reach more than 26%, and the sales growth rate of new energy vehicles will be around 34%.
Transitioning from Carbon to Green Energy
The practical value of a low-carbon economy is reflected in the theoretical level of its development, and the application of carbon-neutral technology in the field of new energy vehicles can promote the development of the automobile industry. In the process of modern social development, the process of carbon emission usually changes from carbon peak to carbon reduction and carbon neutrality. The concept of "carbon neutrality" reflects that human beings are paying more attention to environmental protection, and the idea of low-carbon life is also an insistence on the long-term development of society. Xu Liuping, President of FAW, will hold a conference in Shanghai in April on the new model of "five-chain integration," i.e., a green and intelligent urban automobile ecosystem with new energy intelligent vehicles as the core chain and new consumption chain, green and bright mobility chain, intelligent energy chain, and new infrastructure chain as the integration of the "five chains" automobile ecosystem. Under the background of carbon neutrality and robust manufacturing, the top-level logic of carbon neutrality is the mission of a big country, energy security, political status, and energy dominance. The most apparent impact of carbon neutrality on new energy vehicles is a significant increase in penetration rate, based on which the central theme of a strong manufacturing country has also begun, and the industrial system is gradually complete. Demand for new energy vehicles is expected to surpass expectations, with an overall surge in the next three years. If the new energy vehicle industry passes the inflection point, its penetration rate will increase rapidly.
On the other hand, the combination of new energy vehicles and smart cars will fight against traditional cars, and the fresh new energy smart cars have significant advantages, such as fast power, easy operation, and low cost, so if the volume is released in non-restricted areas, the penetration rate will increase significantly. In the new energy vehicle enterprises in the high-end product release of luxury brands, such as Tesla, and BYD, etc., in the high-end breakthrough, coupled with the three advantages, the traditional car companies speed up in the direction of new energy vehicles transition. Associated with the strong development of the Internet in recent years, Millet, Huawei, and other Internet companies are vigorously encouraging the combination of technical support and automotive innovation. It can be seen that a new generation of new models will gradually enter the people's field of vision.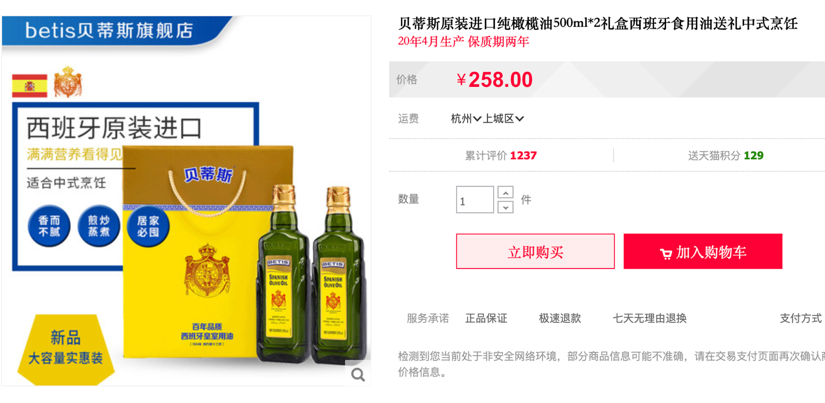 Next post China Olive Oil Market Analysis